As soon as it was announced we wanted to get our hands on it, so Iain pre-ordered it, waited, waited a bit more, saw other people lucky enough to get it before us play around with it, got jealous, waited a little more and then it finally arrived.
So you are probably asking yourself, what is it. When you look at their website here, the explanation is quick:
MaKey MaKey is an invention kit for the 21st century. Turn everyday objects into touchpads and combine them with the internet.
Basically you can take any objects (as long as they are conductive), clamp them to the MaKey MaKey board and make them do things. It was invented for anybody who loves tinkering around, wants to create anything in between art and engineering.
So what else is in the box?
not much, but definitely enough to get started on a little project
And within minutes the idea was born, a few old coins were found under the couch cushions and in the back of drawers and an orange was "stolen" from the fruit box.
All of it stuffed into a cardboard box and we had our first project – the interactive Orange
When you touch a coin and hold the orange, you make a connection, and MaKey MaKey sends the computer a keyboard message. The computer just thinks MaKey MaKey is a regular keyboard (or mouse). We just build a little flash movie that makes a sound and changes the picture when a certain key is pressed.
see it in action: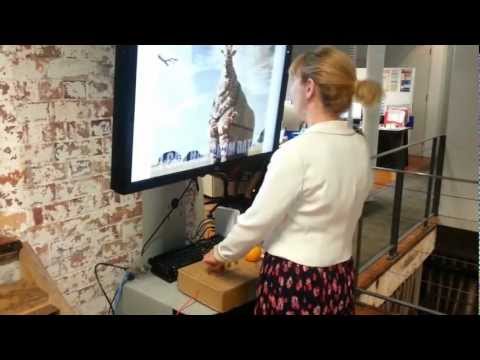 There are already plenty of pretty cool projects out there, so check them out and we make sure we keep you updated with ours as well.